Are you looking after your body?
The physical demands of caring can put you at higher risk of injuring your back and other parts of your body. 

Lifting someone regularly and helping them dress or move around can cause a lot of physical strain. However, knowing how to protect yourself can help you maintain good physical health both now and over the long term. We suggest some tips to help you protect yourself.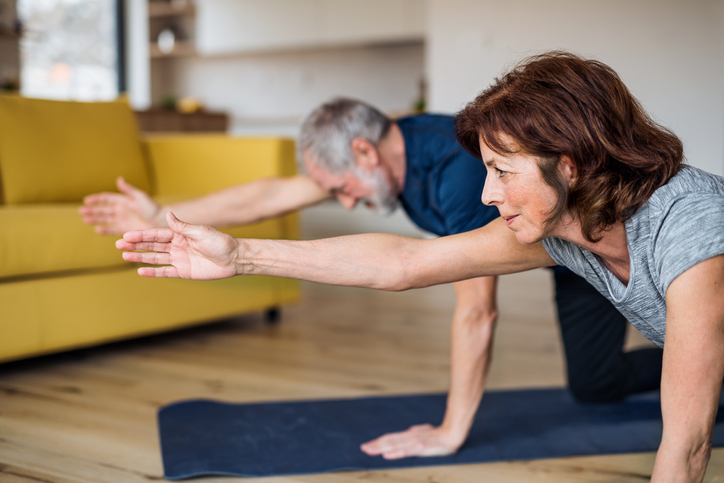 Manual handling
Manual handling is a term often used to describe the act of lifting, supporting, carrying or moving a person. It can often be necessary to undertake this kind of physical activity when looking after someone on a regular basis.

Caring can be very physically intensive. When carrying out any form of physical task, it is vital to prevent injury and look after your wellbeing.
Prevention is better than cure and if you have any persistent issues, it is important to consult your doctor as soon as possible.

Here are some simple ways to help prevent problems arising: 
Keep hydrated - for example to maintain adequate fluid between the discs of your vertebrae in your back.
Know the limits of your strength and flexibility and don't push beyond them.
Bend at the knees rather than higher up where possible.
Prepare the environment to offer as much support as possible.
Use equipment, such as hoists, to help where possible or request them.
Communicate clearly with person you are with, telling them what you are going to do together and how so nothing comes as a shock to them. 
Make sure you have good hand grip and have breaks where needed.



The Care Act
It is important to bear in mind that the Care Act is also in place to protect you. The section on preventing needs for care and support is particularly relevant and it may be useful to refer to this when seeking extra help from your local authority (or Trust in Northern Ireland). 


Health and Care Act 2022
There is guidance that social and health  care professionals should follow relating to someone's release from hospital with care needs as follows (section 91 - Discharge of hospital patients with care and support needs): 


'Where a relevant trust is responsible for an adult hospital patient and considers that the patient is likely to require care and support following discharge from hospital, the relevant trust must, as soon as is feasible after it begins making any plans relating to the discharge, take any steps that it considers appropriate to involve the patient, and any carer of the patient.'



It is a good idea to arrange a manual handling assessment through your social services department if you need to support someone physically over the long term.
In preparation for this or alternatively for understanding what support you need in general, it may be helpful to consider the following:
How much do you physically assist the person you care for? For example with standing, going to the toilet, getting up or going to bed?


Do you have a care plan and is it up to date?


Do you use any equipment to help - and do you feel comfortable and confident using it?


Are you experiencing any recurring twinges, aches or pains?


Is any current support, ie with care workers, you're receiving sufficient? Have the needs of the person you're caring for increased?