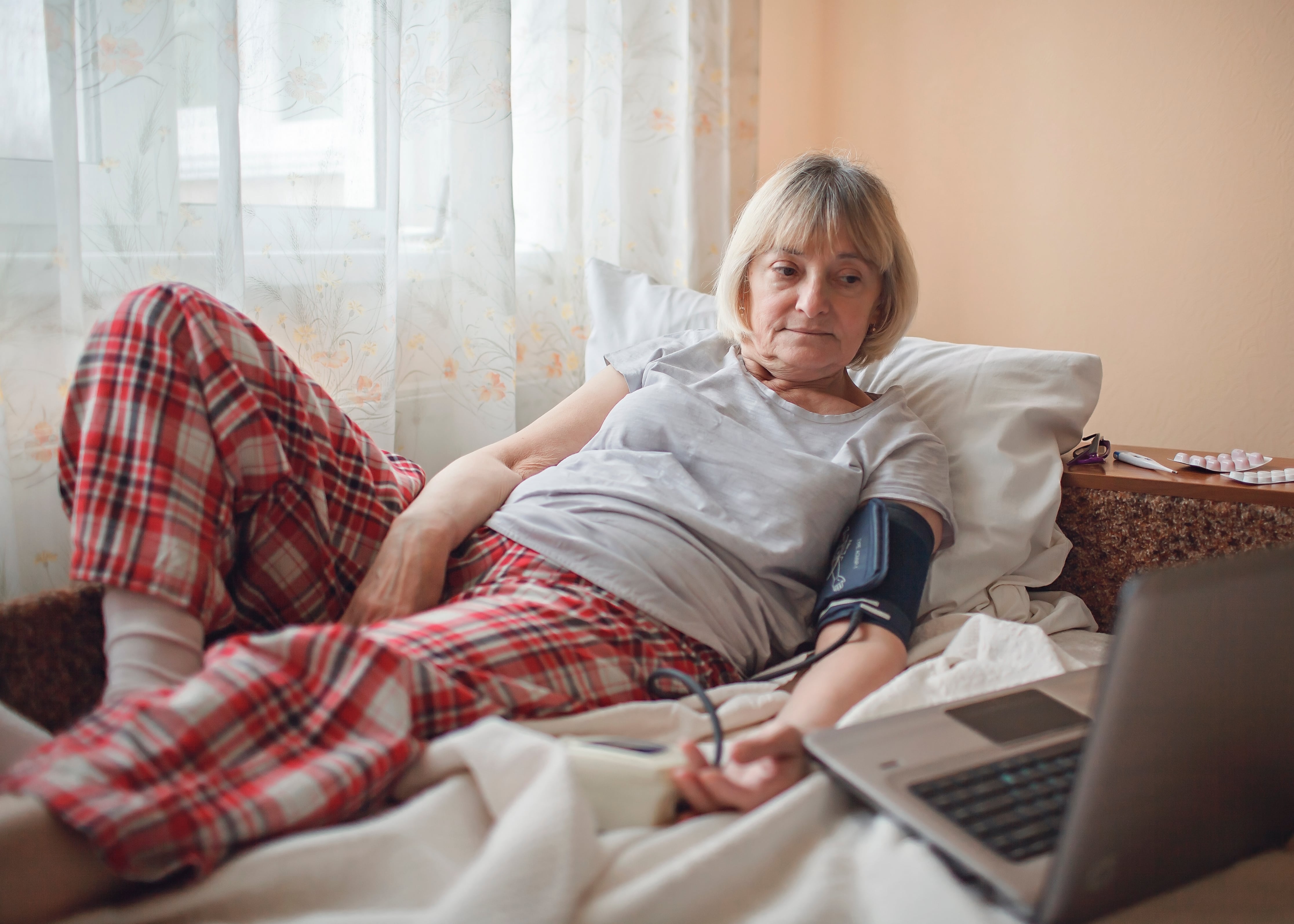 Virtual wards are a service that helps patients to manage their care and health at home over the short term, with close monitoring by their care teams, rather than in hospital.
For some carers, supporting someone at home on a virtual ward may be helpful because it could prevent the person going into hospital or help them leave hospital more quickly.
We now have a virtual wards checklist to help answer any questions, worries or concerns about virtual wards. It can also help you feel more empowered to speak to the healthcare team setting up the virtual ward.
How virtual wards work
Usually, up to 14 days of support will be provided at home. Patients are monitored remotely using technology so that they can leave hospital sooner, or receive care at home as an alternative to going into hospital.
This service might be called something other than a virtual ward in your area. For example, it could be called a frailty virtual ward, Hospital at Home or an Acute Respiratory Infection virtual ward.
Being involved in the person's care

You are entitled to have a say in the care of the person you support if you are their main carer. Health services have a responsibility to involve you (where appropriate) in the care of the person you are looking after if you are providing care.

If you decide it is not the most suitable option for you both, you have the option to decline the service.


Support for you in your caring role

Make sure that you are clear about what time you have available to provide or coordinate care. You could make a list of all the relevant virtual ward contacts as well as what their role is so that you know what should be happening when and who is supposed to be delivering care.
Remember, you have a choice about whether you care or how much care you provide and this is your legal right. The virtual ward team must take this into account.




Keep in mind that you have a choice about how much care you provide.

Check your employer's policies on flexible working – you might be able to sort things out with an informal chat with your manager, or you might want to make a formal request to work flexibly (you have the right to do this if you have been an employee for six months or more). Your employer might also have leave provisions. You have the right to take a short amount of time off in an emergency.




We suggest making a contingency or emergency plan. Some local areas have processes for this in place and you can talk to the people providing care about doing this.
Make sure you make a note of what they can provide. We have guidance about making an emergency plan.



Practical information

Technology can be a brilliant way of highlighting problems early, but it's good to be confident about how it works and to understand it.



Do you have enough information about how the technology you are being asked to use works, what's being used and why, and how any data is recorded? For example, are there any readings they want you to look for, like blood pressure?
One of the nine principles of a virtual ward is to provide patients (and/or their carers) with adequate information to allow informed consent and understanding of the care provided or to support the use of equipment or digital technology such as mobile phones, apps, web-based tools or devices you can wear.
Make a list of any worries. It may be helpful to make notes of a conversation, ask for a repeat demonstration or ask for links to further information. Be sure to ask what happens if there is an issue and how services will know and respond to this.
The virtual ward team has a responsibility to ensure that the person needing care understands the technology that will be used. As their unpaid carer, you can ask to be involved and informed if that person is able to consent, or if you have Power of Attorney for health and care decisions, or acting in their best interests under the Mental Capacity Act if they are unable to make their own decisions.




Some of the technology needs very little energy to function, but it depends on the technology or equipment being used. If you are concerned, you should ask about this. In most cases monitoring equipment is provided. It can include a tablet for communication and does not rely upon WiFi or a good internet connection. Spot monitoring equipment will usually have enough charge for the duration of the virtual ward. The NHS could provide a personal budget to cover the costs.




You could make notes every time you have a conversation with the healthcare professionals you are in contact with and keep all information that is shared with you. This could include notes of who you meet with any key dates and information about treatment or medication side-effects, for example.
Write down any questions that you might have to come back to. You could also ask if you can record key conversations with any health professionals so that you can return to them. This might be particularly helpful if you find verbal or written communication with professionals challenging.
It's also a good idea to try to keep all important information in one place. That way you can keep track of it and refer to it when you need to.



What happens next?

Make sure that you ask the virtual ward team what the next steps are and make a note of the response. If the condition of the person you care for changes (ie, gets better or worse) then the outcomes might change.
It doesn't matter how many times you ask this question if you are worried. Make sure you make it known to anyone in the team if you are unsure about anything relating to the virtual ward.




Make sure that you have all the right contact numbers and that you know when to call someone in the virtual ward team, when to call 999 or 111.
The person you care for and you, as a carer, should have been provided with relevant information. This is one of the nine principles of virtual wards. You should know who to contact if their symptoms worsen, including out of hours. The team has a responsibility to make sure that there are clear pathways to help recognise any early signs of deterioration and the right processes in place to maintain patient safety if this is the case. All staff should have received training on these processes so that everyone knows what is supposed to happen.



Make sure you get a clear, personalised care plan from the virtual ward team that details what happens next. This may include getting a more in-depth assessment to develop a coordinated and integrated plan for treatment and long-term follow up or being linked with
other community services. As a carer, you have a right to be consulted and involved in what happens next.
You are also entitled to a carer's assessment if you haven't already had one.  It's not a test, but a discussion about your needs as an unpaid carer and the outcomes that you want to achieve. It may be useful to make a note of what has been said.




Planning to take a break and having cover is important. If you can, try to reach out to family members or close friends if you need some additional support. Even if they are unable to look after the person you care for, they could perhaps ease some of the pressure on your shoulders by, for example, offering to do your shopping or running other chores now and again to give you a break. We have guidance to help you take a break.
If the person you care for is going on to have Continuing Healthcare provided by the NHS, then the team is responsible for making sure that you have sufficient breaks.
There are also other ways of supporting your health and wellbeing. 
Remember, you can ask for a rapid carer's assessment to discuss the outcomes that matter to you and the support you need. Being able to have a carer's assessment is a statutory right.
If you need to combine work with your caring responsibilities, it may be possible for you to request a flexible working arrangement to help. Many employers make informal arrangements for flexible working. Check your internal work policies and remember, you have the legal right to request flexible working if you have been an employee with 26 weeks (six months) of continuous employment at the time you make an application. We have more information on your employment rights.




The checklist was developed by Carers UK, as part of the Carers' Partnership alongside Carers Trust, through our work for the Health and Wellbeing Alliance.
We would also like to thank our Insight Volunteers for helping to develop the checklist with their excellent insights based on their caring experience.
News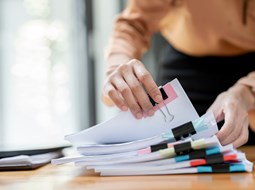 Carers UK encourages contributions for the Carers Challenge: One week left to submit evidence of good practice in supporting carers
01 December 23
Got a question about caring?
Every day we hear from people who need help with looking after a friend or family member
Become a member for free
Joining Carers UK is free and takes just a few minutes.