Eating well
Caring over time can sometimes take over and it's easy to neglect your own health or reach for the easiest convenience options when you feel short of time.
Over time, it's easy to slip into unhealthy habits and reach for the wrong 'comfort' foods to keep us going. However it's possible to break those habits and there are some simple steps you can take to prepare meals for yourself and those you care for more easily, eat more healthily and feel better. We offer tips and guidance to help.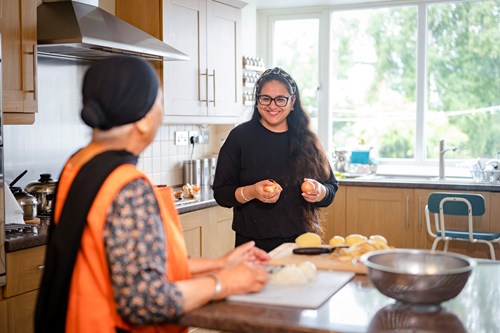 Understanding the benefits

 
No matter what your weight, by understanding how to achieve a balanced diet and how to fit this into your lifestyle, you can manage your weight and feel better. 
It's good to be reminded that balance is the key to a healthy diet. Enjoying foods from all the different food groups is important to provide your body with all the nutrients it needs. The NHS Eatwell Guide provides a helpful illustration of what we should be aiming for to maintain good health - where possible, having a balance from all the main food groups in the proportions shown: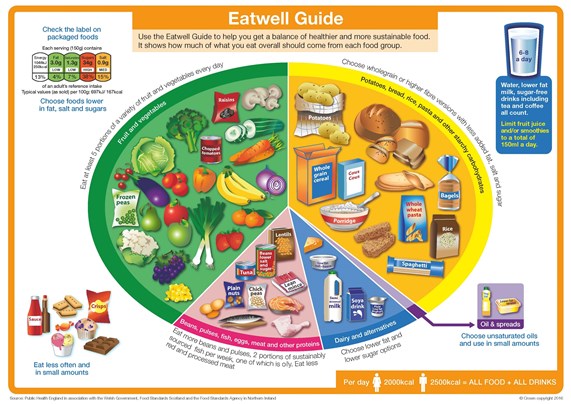 This Share and Learn video provides more insights from a dietician's perspective and looks at the eat well plate concept more closely.
How the right foods can help you feel better 
Knowing which food and drinks to eat can really help to give the energy boost you need to look after yourself as well as those you care for, as well as strengthening your immune system. 
Helping those you care for to eat well may feel like a big responsibility. Sometimes it can be difficult if they have dietary needs due to a certain condition such as dementia, cancer or swallowing problems. For further website details, go to our section on Looking after someone and nutrition.