Leaving hospital checklist
When someone you care for is in hospital, it can be a very stressful time. The helpful checklist below can help you understand what to expect and how to prepare for them leaving.
This checklist tells you:
what should happen before the person is discharged
what should happen on the day
what should be set up afterwards.


Click on this visual to download the checklist and find out more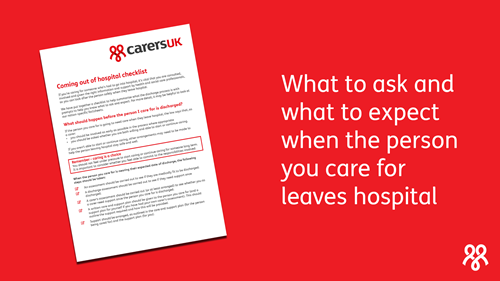 A summary of what to consider:
Decide whether you can care for someone and know that it is your choice.
If you choose to look after someone after they leave hospital, you should be consulted and kept informed by health and social care professionals.
Each hospital will have its own discharge policy.
You should feel comfortable that adequate support has been arranged before they leave hospital.
Find out what should happen when, and what to do if you feel let down by professional services.



What does the passing of the new Health and Care Act 2022 mean?


Does it reinforce your rights?
Yes. From July 2022, the passing of the Act means that NHS hospital Trusts in England have a duty to ensure that unpaid carers are involved as soon as feasible when plans for the patient's discharge are being made. This applies to all carers of adults needing care and support following hospital discharge. 


A note about consent
Note that your level of involvement is based on the patient's consent. However the Trust also has a direct duty to involve carers. The law says they must check you are willing and able to care. If you are not able to care, they might need to put in place different or additional arrangements.

Further support
It's good to know about advocacy services and further support to help you liaise with professionals over important matters such as the appointments and treatments of the person you look after. Our Being Heard guide provides really useful insights to help you:
communciate with professionals
understand your rights
deal with difficult emotions.
We have five versions for each nation – see below (open in PDFs):