Throughout the month of November - to mark 10 years of the Carers Parliament - we held over 20 online events including workshops for carers on key issues such as a right to a break from caring, the upcoming Carers Strategy and Dementia Strategy and the next steps on a new Scottish Carer's Assistance (which will replace Carer's Allowance in Scotland).  These online events also included a range of information sessions, care for a cuppas and stretch, mind, body sessions to support carers with the advice they need on key topics and have a chance to relax and chat with other carers. 
We also hosted our first hybrid Carers Parliament event at Dynamic Earth with over 200 carers either attending in person or watching online.  Thank you to our speakers and to everyone who attended. 
We will publish a short report of key issues raised by carers during the Carers Parliament events.  However, we have also produced two films - one from the hybrid event and one from our webinar on living with COVID.  You can watch these below.
You can watch a film of the hybrid Carers Parliament by clicking here. 
You can watch a film of the webinar on Living with COVID and Questions on Long Covid here shortly.
Exhibition and Reception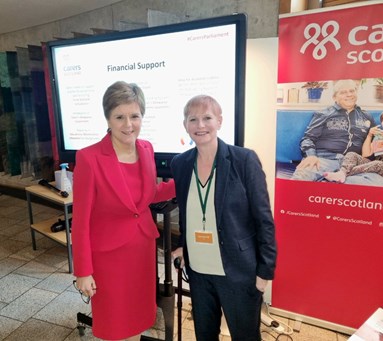 To mark 10 years of the event, we also held an exhibition stand at the Scottish Parliament for three days.  Whilst discussing what carers voices had contributed to the Scottish Parliament, legislation and strategy over the past 10 years, we took this opportunity to speak to more than 50 MSPs including Ministers, Cabinet Secretaries and the First Minister on the issues affecting carers and what needs to change, including the need for priority support with the cost of living for carers and those they care for.
We also hosted a reception at the Scottish Parliament with the event sponsor, Gillian MacKay MSP (co-convenor of the Cross Party Group on Carers; carer and campaigner, Carolynne Hunter; the Minister for Mental Wellbeing and Social Care, Kevin Stewart MSP; and Carers UK Chief Executive Helen Walker speaking at the event.  Carers, MSPs and a range of organisations, including the Carers Parliament partners the National Carer Organisations all attending.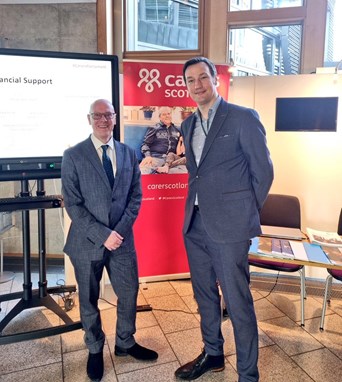 Press Release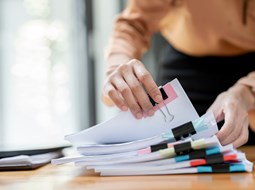 Historic day for unpaid carers as Carer's Leave Bill receives Royal Assent
24 May 23
A Bill that gives employees across Great Britain the right to take unpaid leave from work to care for older,…
Got a question about caring?
Every day we hear from people who need help with looking after a friend or family member
Become a member for free
Joining Carers UK is free and takes just a few minutes.