Chris From The Gulag

Online

Member



Sun Oct 14, 2018 9:43 am
Had to happen ... eventually ?
( Internet search ... UNIVERSAL WEALTH MANAGEMENT ... interesting results dating back MONTHS ... alarm bells were ringing then !!! )

https://www.bbc.co.uk/news/uk-england-suffolk-45829270
Universal Wealth Management : Police probe Ipswich firm.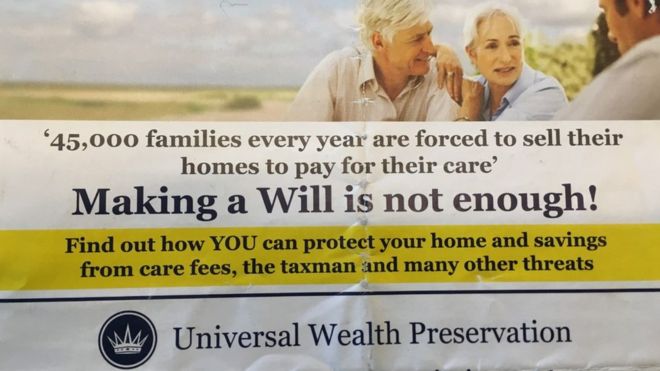 The collapse of an inheritance planning firm that has left dozens of clients fearing for their life savings is being investigated by police.
Universal Wealth Management ran seminars called Keep It In The Family, in which they promised to protect people's assets from inheritance tax.

The Ipswich-based firm also promised to help people avoid care home fees.

Two people connected to the firm have been arrested and released as inquiries continue.

After attending a seminar, people typically put their home into a trust run by the company, which meant they no longer officially owned it.

The idea was that local authorities would then disregard the property in the event someone needed long-term care.

The BBC has learned the company first hit trouble in late 2017, when it laid off dozens of staff.

Earlier this year, some clients started to complain but their emails and calls were going unanswered.

In April, two people connected with the firm were arrested on suspicion of fraud. They have since been released but remain under active police investigation.

A Suffolk police spokeswoman said: "Two people who were arrested on suspicion of fraud as part of a large-scale financial investigation have had their police bail cancelled.

"Both have now been released under investigation whilst inquiries are continuing."

The national body that deals with fraud on behalf of victims, Action Fraud, said at least 140 clients of Universal Wealth had contacted it about missing money.

The BBC has spoken to a number of people who appear to have lost significant amounts of cash.

Nigel Watson, from Sabden, near Burnley in Lancashire, attended a Universal Wealth seminar with his parents in 2014.

Both signed their houses over to a Universal Wealth Preservation trust, while Mr Watson's parents handed over £250,000 - their entire life savings.

Mr Watson found out about the collapse of Universal Wealth when he got a letter from a former employee, offering to change the trustees for a fee.

"They were totally in the dark about it," he said. "And I had this bombshell piece of news, which I had to decide whether I told them about or not."

"It was terrible. Awful. To tell them their whole life savings had disappeared was terrible. I can't describe it."

The company has yet to comment. Its offices in White House Road, Ipswich, are empty and 100 staff have lost their jobs.

The investigation will be broadcast on BBC Inside Out East on BBC One on Monday at 19:30 BST.
The first of a few out there.

Not unexpected , where there's money , there will be vultures circling ... kettles of 'em ( Thanks Google ! ) ... ready to swoop.

I hope NOT one reader is affected by this ?
#################################################################################
CARE HOME FEES :

THE BIBLE

( SUBJECT TO NO CHANGES IN THE BUDGET OR FORTHCOMING GREEN / RED HERRING PAPER ) :

https://www.ageuk.org.uk/information-ad ... care-home/