Chris From The Gulag

Online

Member



Fri Nov 02, 2018 7:06 pm
Paraplegic man drags himself through airport.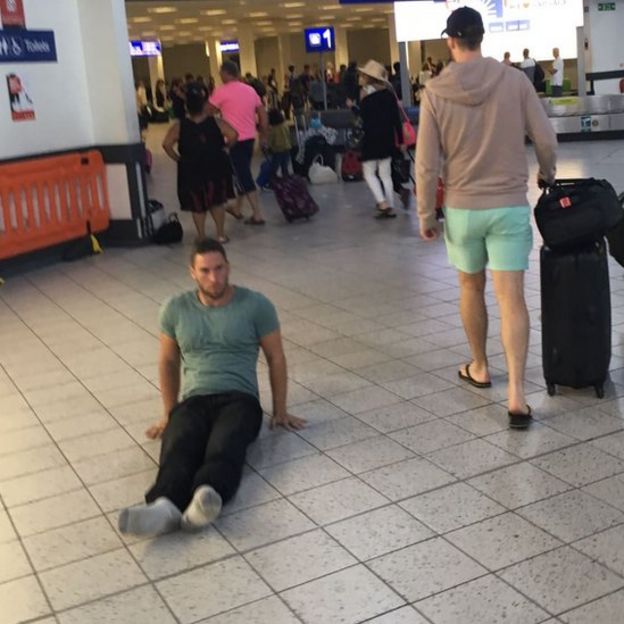 The image is shocking: Justin Levene, a paraplegic man, dragging himself along the floor through Luton Airport after his self-propelling wheelchair was left behind on a flight.

As he hauls himself through the arrivals hall on his backside, other passengers seem oblivious.

Staff had offered to push him on a rigid high-backed chair but he refused as he felt it removed his independence.

He is now suing Luton Airport - which says it is satisfied with its response.

At the age of 20, Justin, from north London, coughed and herniated a disc. An operation to fix the problem went wrong leaving him paralysed below the waist and reliant on his self-propelling wheelchair.

His disability has not held him back. Far from it.
Justin says the airport's failure to provide him with either a self-propelling wheelchair or a motorised buggy left him with only one viable option - to drag himself along the floor for hundreds of yards.

When he reached the exit of the terminal, he hauled himself on to a baggage trolley and used his hands to push himself along the ground to his taxi.

Justin's athletics career means he travels widely and he has a custom-made wheelchair with a cushion to reduce pressure sores.

He acknowledges that mistakes do happen, and wheelchairs can be left behind, but he has never faced a situation like this.
Sue Willman, a partner at Justin's solicitors, Deighton Pierce Glynn, says the case "isn't really about money, it's about access to justice".

"It's time for Luton airport and other transport providers to be a bit more imaginative and enable disabled people to travel on equal terms with non-disabled passengers."

Meanwhile, Svetlana Kotova, from the disability equality charity Inclusion London, said it should be possible to provide assistance "in a way that promotes our independence".

"We are customers too and we should be valued and treated with dignity and respect."
Until the next reported case ?