Chris From The Gulag

Online

Member



Fri May 18, 2018 10:35 am
Just under 24 hours or so until kick off.
Preparations almost completed ... last minute deployment of snipers ... to keep down the homeless who dare venture in ?
I trust that the caterers won't mix up the expected deliveries with those destined for the local foodbanks ?
Come Monday , the thought of some locals opening a tin of caviar and spitting out the contents ... and some wag suggesting a drop of custard to ease the flavour ?
Me ? Always prefered a can with a dollop of ENGLISH mustard !
As for the Royals ... " Good heavens , this red coloured caviar is the best I ever tasted ! " ... refering to any supermarket's low priced baked beans.
Turning to his manservant ... " Jeeves , can you find me a case of this cavair ? "
Quick thinking Jeeves replies ... " No problem , and quite reasonable , around £ 100 per tin ... and there's me expenses , of course. "
Nice drink as a perk of the job , hey Jeeves ... as well as certain photographs which will be your " Pension " ?
Local homeless now " Housed " elsewhere ... perhaps HOUSED being the wrong word in this context ... local militia to detain any suspected to be " Disbelievers " on the day ... one local scout troup already " No shows " as most are from the poorer side of the manor ... not enough boot polish to go round ... and the local foodbank didn't have enough in stock !
As for the foodbanks , signs such as " Sponsored by the DWP " have been removed , and empty cans of premium priced soup / vegeatables and caviar placed on display in the windows.
New signs with a German flavour ... in keeping in with the Royals ... " Arbeit Macht Frei " ... possibly a smelling mistake if contracted to a British signwriter ... which , for most Royals , is a conundrum ? ... even the £ 300 per day caper ... Royals are disbarred from either Chamber !
For some , no relief for the occasional appearance in a far off land fronting an arms deal ???
" Can't have a decent drink in those places without my manservant having his hand cut off ! "
( Editors note : One reason why a pint of Adnams Broadside ... in a straight glass ... carries the death penalty in such lands ? In which case , a second pint cannot do any more damage ? ... even three ?
All mobile phones are to be switched off in case a huge cheer goes up if Chelsea score first ... especially on the pitch if a Royal has had a tenner bet on the first goal ?
After passing a motion that no beggars would be allowed anywhere near the pitch , one councillor did raise a point about some of the Royals on display !
As for the clear up operation afterwards , the homeless have been warned not to find their usual spots UNTIL that operation is ended.
Otherwise , some homeless might land up at the local landfill site in said clear up operation ... much to the anguish of the local bigwigs , who were hoping for a more , permanent , solution.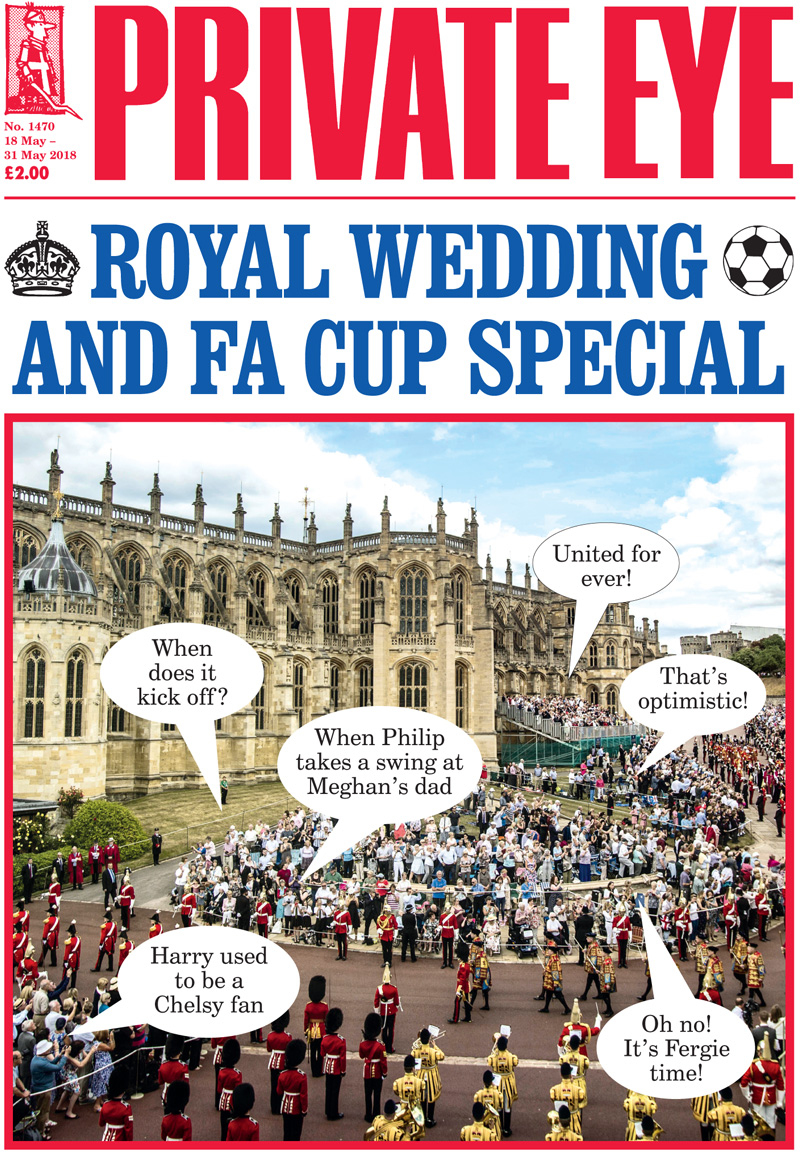 STOP PRESS !!!

" Super sub starts , not on the bench ! "

Pundits question the decision ... when based on his past performance on the big occasion ???
Prediction ?
Chelski 2-1.
Rematch in ... 5 years time ... only winners in that one will be the divorce lawyers ???
Number of early Christmas cards coloured red and yellow dished out to set a new world record.
An American bride ? ... make it 4 ... most have a short fuse !