Chris From The Gulag

Online

Member



Mon Jan 21, 2019 12:59 pm
Prince Philip crash : Debris for sale on eBay.
Debris said to be from a crash involving the Duke of Edinburgh has been put up for sale on eBay.

Seller morbius777 claimed the parts were from the collision near King's Lynn, Norfolk, on Thursday.

The listing said the items "may even have Phil's DNA on it, if you wanted to clone him or anything".

It said all money raised from the online auction would go to Cancer Research UK, with the current price sitting at £65,900 with 139 bids.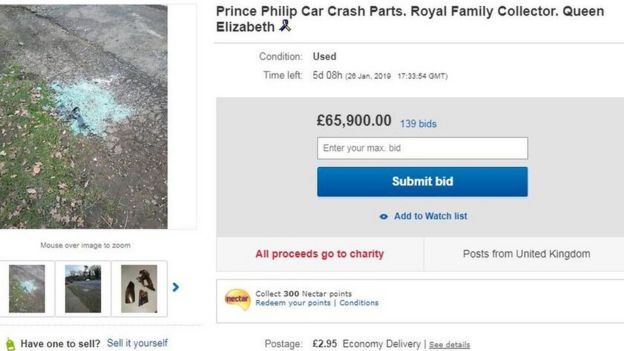 Whatever next ?
Please ... some decorum ???
Old police truncheon left in a cupboard for me with a slight dent ... said to have been in accidential contact with
Arthur Scargill's head.
Perhaps I should try me luck on EvilBay ???
Make a good retirement present for a police officer ... from London ?