Chris From The Gulag

Online

Member



Wed Apr 26, 2017 9:39 am
One from today's Guardian ... not directly carer related ... but interlocks with other threads / issues ... most notably the recent thread on Stoke-on-Trent :
https://www.theguardian.com/cities/2017 ... r-election
I have contacts in several towns in the area , mainly Guisborough and Redcar.
Another case of the main industries being lost ... steel and chemicals this time ... and nothing done to replace the jobs , and more importantly , the monies now not being spent ... in economic terms , the reverse effects of the multiplier.
One contact in Redcar confirmed my suspicions as to what would happen once the furnaces were turned off.
Suits and do gooders by the hundred , in posh cars , some with cameras ... meetings / sympathy / reassurances ... then back off to their civilisation ... had to smile , classic response ever since the mid 1970s !
Needless to say , things across the whole spectrum are grim.
Food banks ? One solution to an immediate problem as people of working age are now unemployed , or finding work at a fraction of the rate of pay previously enjoyed.
Two carer centres , one merely a small coffee table meeting type outfit in a local church , are under immediate threat as they , in themselves , can offer nothing to solve the real problems ... lack of finance / diminishing support services / inadequate housing to name just three.
Bottom line ?
Many more areas will become social battlegrounds before long if not already.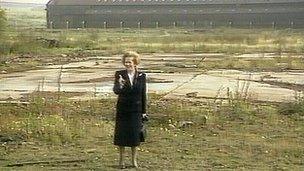 Our fellow carers and their carees are caught up in the wider issues with no prospect of being able to " Get on one's bike " and find somewhere better.
##################################################################
Latest State of Caring survey doing the rounds ... the above is just one area in which our fellow carers and carees survive / live in.

Population ? Around 375,000 ... 1 in 10 ... 37,500 ... call it 35,000 ... carers ... how many will complete the survey .... 30 / 40 ... at best ?

Will said Survey even touch the surface of life in CarerLand / Careeland for so many ?

Even more importantly , WHO speaks for them .......... ??????????