Chris From The Gulag

Online

Member



Sun Jul 09, 2017 8:13 am
Well , a least one campaign has exceeded it's target .... of sorts :
Milton Keynes :
http://www.mkfm.com/news/local-news/mkf ... collected/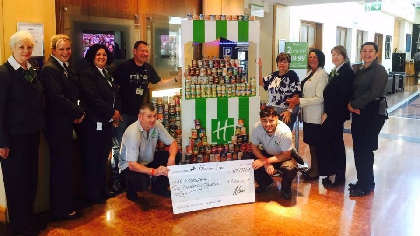 An MKFM campaign to collect 50,000 tins of food for the MK Food Bank over 90 days has significantly overachieved its goal, with 64,112 tins collected by the radio station for the local community.



The tins collected over the three month campaign will be used in part to help feed local children who will be without Free School Meals over the Summer period.

MKFM's Darren and Lia launched the campaign in response to news that there are now 2,000 Food Banks operated around the UK, with 12 of those being in Milton Keynes.

Data from the Trussell Trust, Britain's biggest food bank network, has said it has given out a record 1.2m food parcels to families and individuals in need in 2016-17, the ninth successive year in which demand had risen.
If nothing else , I hope all local campaigns which are food bank related achieve their goals ?
What's next ?
Housing ?
##########################################################################
Barrow-in-Furness this time .... nuclear submarines their speciality if precious little else :
http://www.nwemail.co.uk/Foodbank-shopp ... d1fedfe-ds
URGENTLY needed items for the foodbank include; UHT fruit juice, tinned fruit, jam, sponge puddings, tea bags and coffee.

Other items needed by the foodbank include; breakfast cereals, soup, pasta, rice, pasta sauce, tomatoes, tinned meat, tinned fish, tinned vegetables, tinned potatoes/instant mash, rice pudding, sugar, biscuits, UHT milk - full cream or semi skimmed, and snacks

Barrow Foodbank is based at Abbey Road Baptist Church, on the corner of Abbey Road and Park Drive, Barrow
I trust that somewhere in the UK , some carers elected to donate whatever to their local food banks during " Carers " week ????????
After all , at least 100,000 of our fellow carers had to make use of them over the past 12 months ....